SEO in 2015
It can be hard to keep up with the ever changing landscape of search engine algorithms, which is why we're helping you start your year off right by offering you some advanced SEO Techniques for 2015.
We suggest that you read our previous articles on SEO here and here as well, as they will help you to identify and address macro problems before tackling the more detailed stuff.
The Details
For each and every page or post that you want optimized for search engine ranking, paying attention to the following details is a necessary step:
Key Phrase – This is the phrase that a user would type into a search engine to locate the article. This key phrase must appear in the article at least once. 
For example, if I was searching for help on how to make my website more SEO friendly I might type "Advanced SEO Techniques for 2015" into Google or Bing.  Whatever  you would type into a search engine to locate your page or post is your key phrase.
Key Phrase Location – Your keyword should appear in the first paragraph of the copy.
Using this article as an example, and the key phrase from the previous example (e.g. Advanced SEO Techniques for 2015) you can see that the key phrase is worked into the very first paragraph.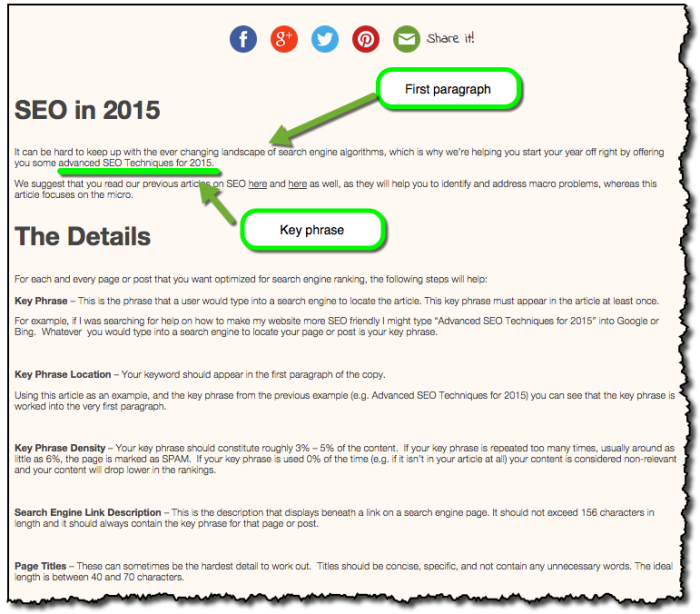 Key Phrase Density – Your key phrase should constitute roughly 3% – 5% of the content.  If your key phrase is repeated too many times, usually around as little as 6%, the page is marked as SPAM.  If your key phrase is used 0% of the time (e.g. if it isn't in your article at all) your content is considered non-relevant and your content will drop lower in the rankings.
[tweetthis]If your key phrase is repeated too many times, around as little as 6%, the page is marked as SPAM.[/tweetthis]
Search Engine Link Description (sometimes called a "snippet") – This is the description that displays beneath a link on a search engine page. It should not exceed 156 characters in length and it should always contain the key phrase for that page or post.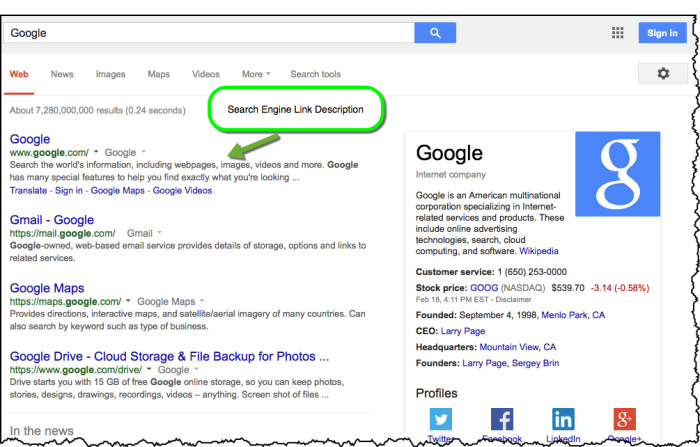 Page Titles – These can sometimes be the hardest detail to work out.  Titles should be concise, specific, and not contain any unnecessary words. The ideal length is between 40 and 70 characters.
URL – Your URL should contain your key phrase and your URL should be friendly.  If you're unsure what that means, refer to our post here.
Post Length – The content of your pages and posts should should be a minimum of 300 words.  Anything less than that and it's difficult to put enough content on the page to make a meaningful and relevant article.
Sub-headings – Articles are the easiest to read for both people and search engines when they have appropriately labeled content divisions, meaning that h2 and h3 tags should be used where appropriate.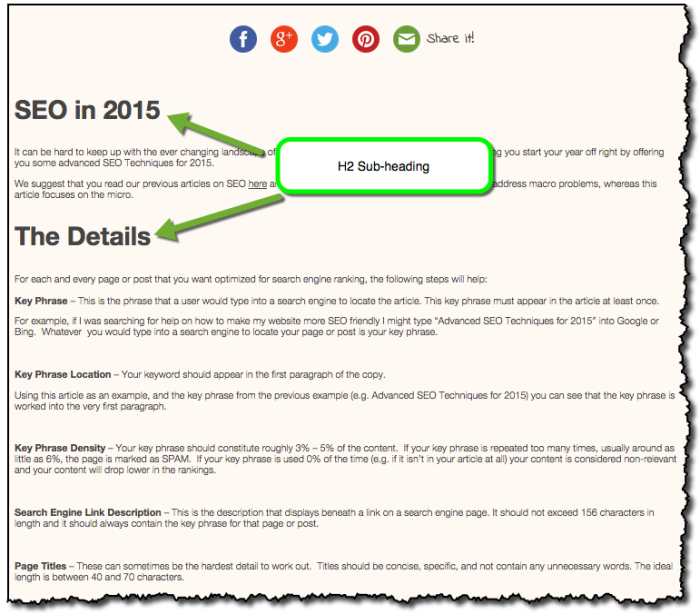 Outbound Links – Links to appropriate and relevant content on other websites increases the credibility of your content in the eyes of search engines.  If you know of relevant content on other sites, share the wealth of your knowledge!  Be very careful to keep outbound links to a reasonable number, and make sure that it makes sense to link to that page.  Too many outbound links – or links of the wrong kind – can easily get a page banned as SPAM.
---
SEO is an important part of every marketing strategy, so we hope that you found these tips helpful.  If you need assistance implementing these changes on your, reach out to us at (802) 585-2063 or send us an email.
---
[gravityform id="5″ title="false" description="false"]