We're proud to announce the launch of the Vermont Commission on Women's Statewide Events Calendar!
We worked diligently with the Vermont Commission on Women to design and develop a statewide calendar that simultaneously facilitates collaboration efforts among organizations working with women and girls, as well as increasing public participation and awareness of women's issues, relevant legislation, and events throughout the state.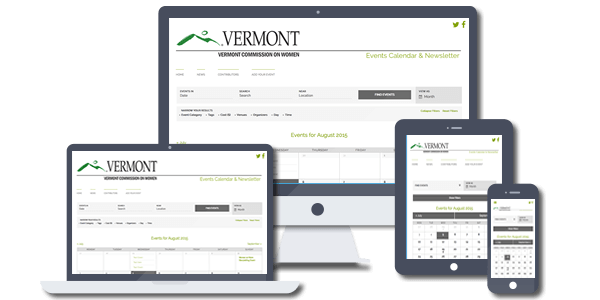 Featuring a responsive, mobile-friendly design, the site is intuitively designed and easy-to-use.   The front page puts the events calendar front and center, with several options for finding exactly what you need based on factors such as location, day or time, and cost (to name just a few). The site also features announcements with a subscription opt-in option for anyone wanting to keep up-to-date on all of the latest news regarding issues that are women / girl-centric, Vermont-centric, and that benefit not-for-profit enterprises.
In addition, the public is able to submit events to be added to the calendar.  Events submitted by the public are held for approval and editing by a VCW staffer before they are viewable on the calendar. Those with membership accounts are able to sign-in for access to advanced features, such as being able to edit or delete their own events at any time, and bypassing the approval queue for immediate publication of their events.
Visit the website here and learn more about VCW here.  You can also follow VCW on Facebook and Twitter.