Continuing from the previous post on security, we're going to explore a few more utilities for sending information securely. In preceding posts on this topic we discussed the basics of storing information securely and reviewed a robust email encryption application named Virtru. Today we'll look at a two more free encrypted email services.
The screenshot below pretty much says it all. Privnote allows you to send self-destructing electronic messages. Type your message into the yellow notepaper colored box and then click on the "Create Note" button. Privnote creates a link for you to send either via email or via text message.  We tested it out both ways and it worked a charm.  A nice bonus feature is that you can choose to be notified when your message has been read.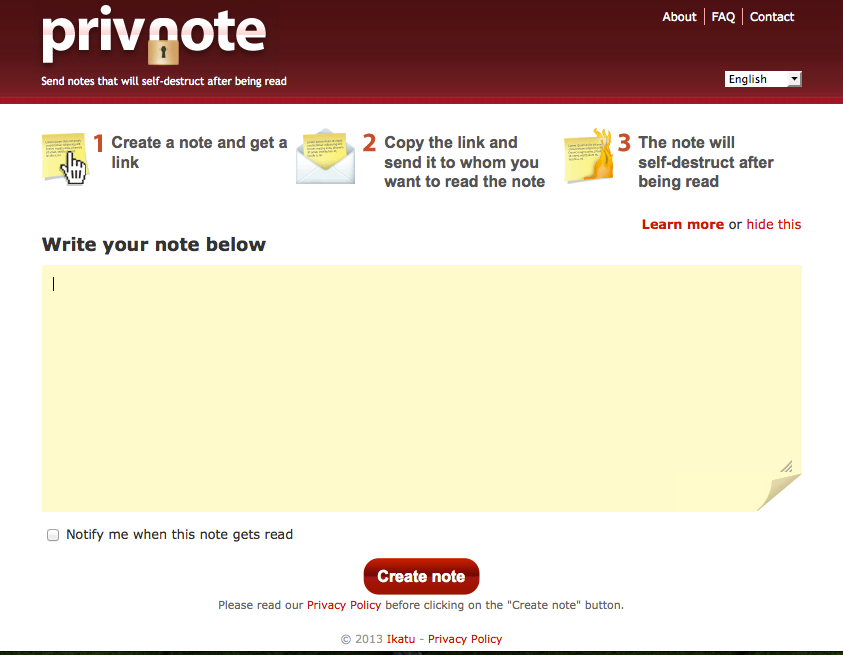 The message self-destructs after the link has been opened, and after that it is no longer accessible by either the sender or the recipient. After thirty days all unread messages will self-destruct so that old messages aren't hanging around indefinitely.  The web app is very straightforward and is easily used on a mobile device.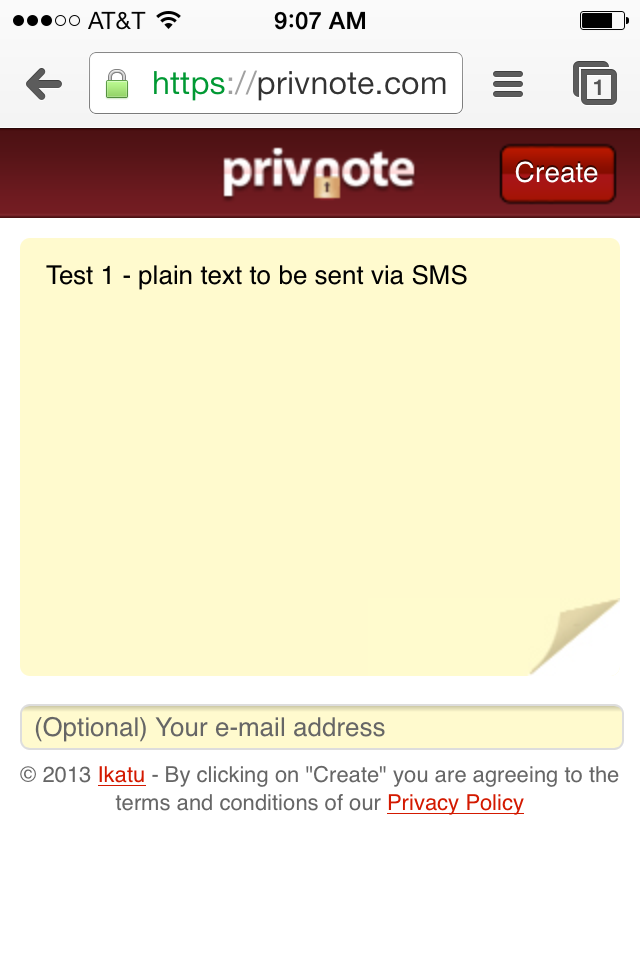 One feature that users might find missing, though, is that you cannot send pictures directly with this service. We tried it a few different ways and it was a no-go.  If that's what you're looking for, Snapchat is still probably your best bet for that.
Burn Note is similar to Privnote in that it is a free encrypted email service and also creates self-destructing messages for users. This app has a few more bells and whistles, though, and you also need to sign up for an account to use it.  As the screenshot below indicates, signing up requires that you choose a username and provide your email and a password of your choice.  The good news is that this the *entire* sign-up process – no further information is asked for and there's no data mining here, thankfully (as that would be kind of ironic).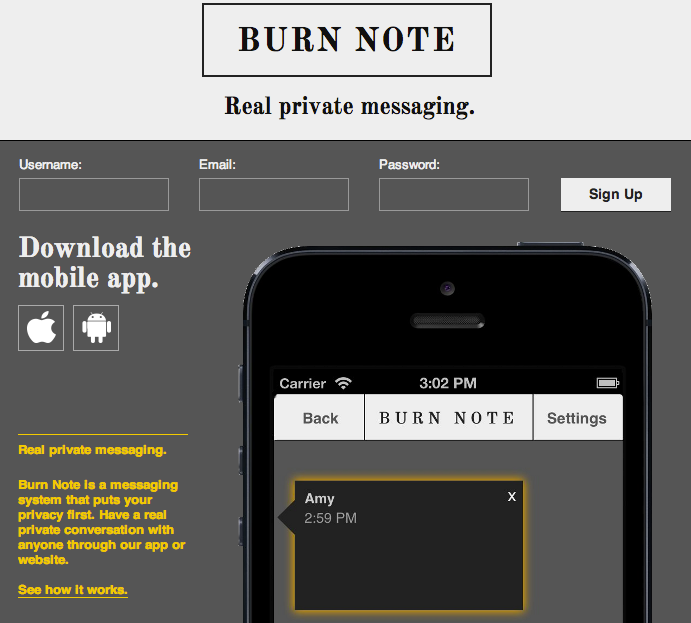 This is what you'll see after you sign-up for the service: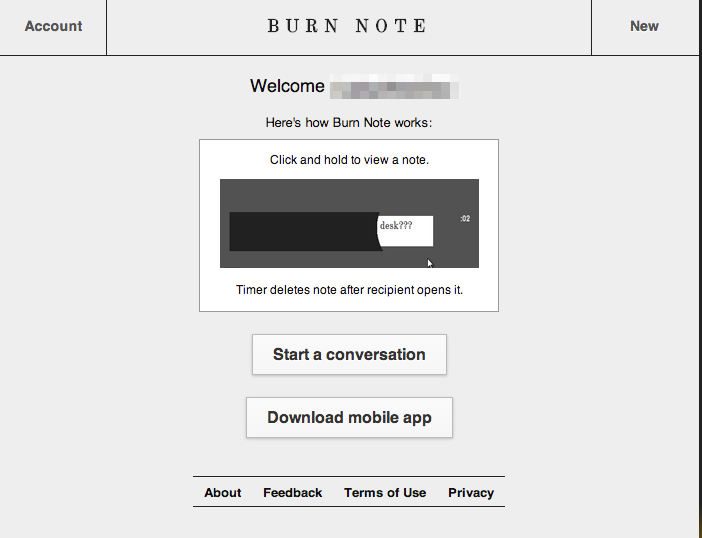 Clicking on "Start a Conversation" takes you to a screen where you can enter your note using the web browser service.  As you can see, I haven't been very creative with my testing messages.  Since I was getting a bit of ribbing for my boring test notes, I thought I would have a little fun with it and be painfully literal (and boring) in return.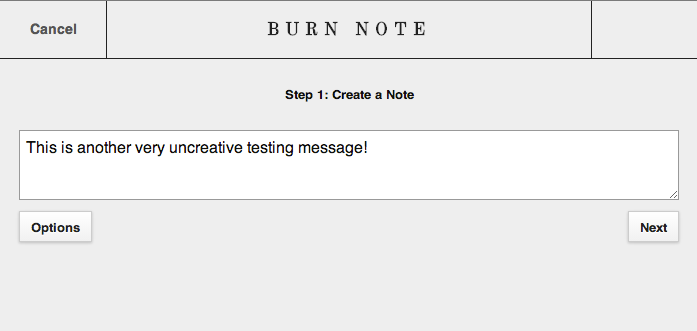 Clicking on next allows you to set a timer that determines how long a person has to read your message once it has been opened.  The time range is from 1 – 120 seconds, so this is not the place to write a long heartfelt email.  This service is pretty much for concise notes only.  You can also prevent the message from being copied which is a great feature.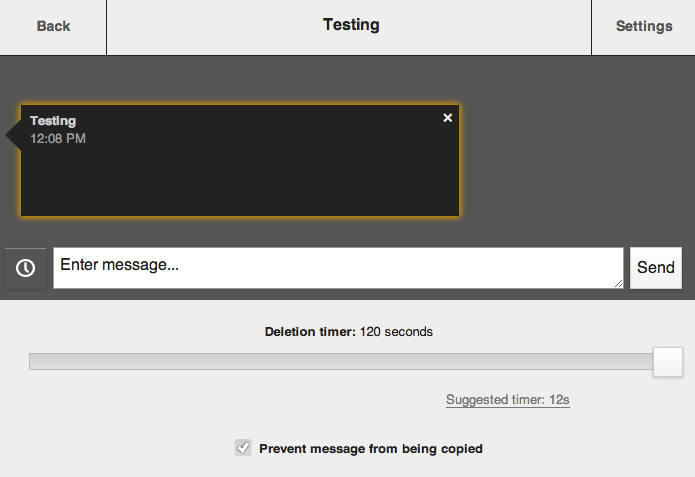 The recipient will get an email that this looks like this:
Once the recipient opens his or her message, they have to click and hold their mouse / mousepad down (or finger, if on the mobile app) while scrolling over the message to read it. When you click and hold over the blacked out message area, a spy glass shaped area appears and the message is viewable within that circle.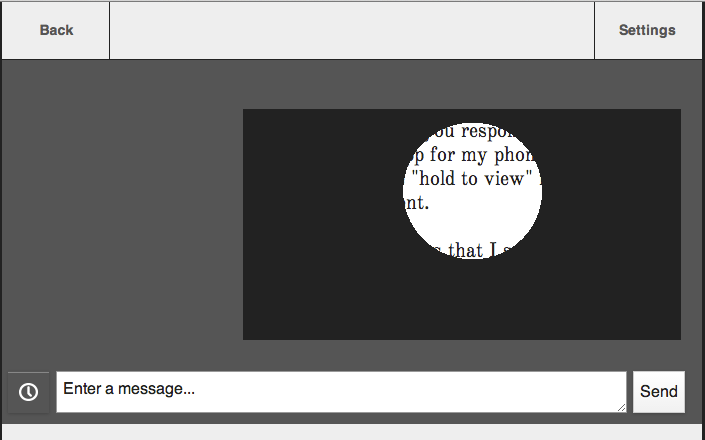 On one hand, this is super cool and reminds me of fun spy games as a kid. On the other hand, it makes reading even medium sized notes pretty impractical.  That being said, there is a massive benefit of this approach from a privacy standpoint, which is that it makes screen captures of your private message pointless.  That's incredibly clever and pretty awesome.  As an added bonus, the mobile app works quite well and functions exactly like the web browser version.    
That concludes today's post on free encrypted email services.  If you're look to send quick encrypted messages for free, either of these services will help you out.  If you're looking to be able to send those notes via SMS, Privnote is your best bet.  If you're looking for a convenient way to send very private notes, than you should go with Burn Note.
---
[gravityform id="5″ title="false" description="false" tabindex="1″]